Bitmain Antminer S19XP Hydro 257T BITCON MINER
Product Detail
Product Tags
Product Description of S19xp Hydro
Model Bitmain Antminer S19 XP Hydro 255Th/S 5304W Bitcoin Mining Hardware Water Cooling Server
The Model Antminer S19 XP Hydro (250Th) from Bitmain mines Bitcoin on the SHA-256 algorithm with a maximum hashrate of 250Th/s for a power consumption of 5200W.
| | |
| --- | --- |
| Model | S19 xp hyd. |
| Algorithm | Cryptocurrency | SHA256/BTC |
| Hashrate | 255TH/s ±3% |
| hashrate power | 5304W ± 5% |
| Power Efficient on wall | 25°C, J/TH 20.8 ± 5% |
| Dimensions | 400*195.5*290mm |
| Packing Size | 570*316*430mm |
| Net Weight | 13.1KG |
| Gross Weight | 16KG |
| Power efficient | 0.8J/MH |
| Power supply AC Input voltag | 200~240Volt |
| Operation temperature | 0-45°C |
| Inlet Water Temperature | 20-40°C |
| Storage Temerature | -20-70°C |
| Water Flow | 8 ±10%/min |
Video
Product Parameter
 Bitmain's latest liquid-cooled S19 XP miner, the S19 XP Hydro is the most powerful Bitcoin miner available on the market.
The S19 XP Hydro comes complete with a hydro-colled power supply, which provides more than a 95% conversion efficiency, achieving energy savings and environmental protection.
The latest high-grade waterproof and dustproof components are incorporated to safeguard the miner, which creates an ideal working environment and ensures long-term mining operations.
The S19 XP Hydro provides the latest cooling technology, which avoids overheating issues. This ensures the highest level of performance, with reduced downtime using a state-of-the-art liquid cooling solution.
The Bitmain Antminer S19 XP Hydro uses the latest generation firmware providing an effortless and optimised mining experience. This ensures a faster start-up speed while hydro cooling technology allows for ease of use and high-performance standards.
The S19 XP Hyd. features industry-leading water-cooling technology, with an arithmetic power of up to 255T and a power consumption ratio as low as 20.8J/T, making it the best performing miner in the world. The water-cooled miner offers stable operation, good environmental resilience, low failure rates, low maintenance costs and long life.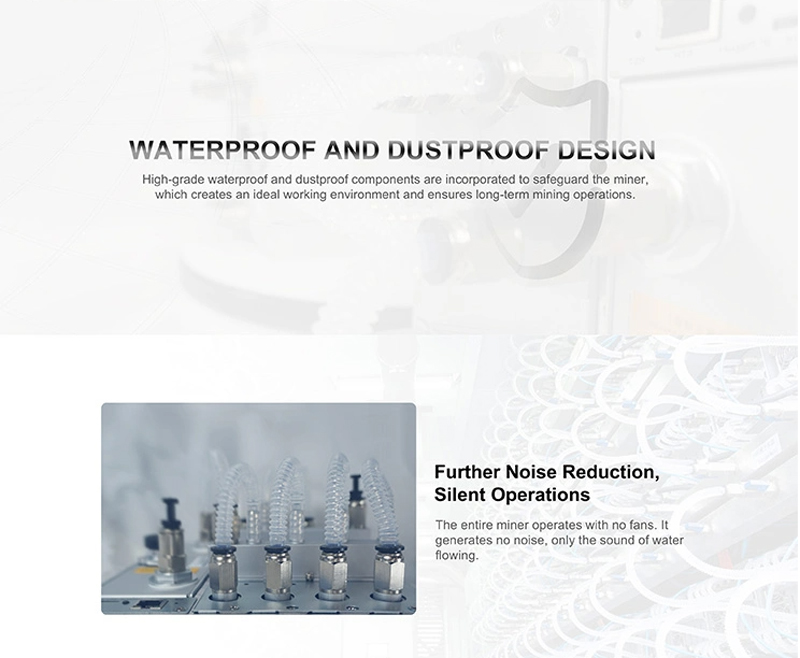 ---
Next:
Factory Directly supply Best Seller Water Cooling Container for Antminer S19 S19j PRO + S19XP Hydro L7 Ka3 K7 D9 HS3 Mining Machine Water Cooling Kit Liquid Cooler System
---